01 Jun

Five Common Questions about Bud Trimming Machines
Five Common Questions about Bud Trimming Machines
Trimming is a critical step in the post-harvest procedure. Cannabis trimming machines are becoming increasingly popular in the cannabis industry due to their ability to increase efficiency and reduce operating cost in the trimming process. This article covers 5 commonly asked questions about trimming machines. After reading you will have a brief idea of choosing the right machine for your operation when you are ready for it.
1. WHAT IS A BUD TRIMMING MACHINE?
A cannabis trimming machine is a device used to remove the excess leaves and stems from the buds of cannabis plants after harvest. The machine works by using a series of blades or teeth that rotate around the bud, gently removing the excess plant material and preserve the valuable parts.
2. WHAT ARE THE BENEFITS OF USING A BUD TRIMMING MACHINE?
Using trimming machines saves time & labor, increases efficiency and consistency. It gets your product to marketplace faster. Workers freed from trimming job can focus on other more complex and creative work that requires their unique skills and abilities.
In the meanwhile, using automatic trimming machines can create new job opportunities in fields such as machine maintenance and quality control.
3. WHAT TYPES OF AUTOMATIC TRIMMING MACHINES ARE AVAILABLE?
Automatic trimming machines are available in two methods of process – batch and continuous feeding.
Batch trimmers
These machines are designed to trim a batch of buds all at once. Unlike the trimming machines that use a continuous flow process, batch trimmers are designed to trim a specific amount of buds at once, typically in a specific size or weight range. Most batch trimmers are dry trimmers which can't process wet material.
Continuous-feeding trimmers
Using a continuous flow process, the buds are fed into the machine through a conveyor or hopper and then trimmed using rotating blades or tumbling action. The trimmed buds are then collected in a separate container.
One of the biggest advantages of continuous processing is that it is much more efficient than batch processing. The products are always moving through the system continuously which allows a higher volume of products to be processed in a shorter period. Most continuous-feeding machines can trim both wet and dry products.
4. HOW TO CHOOSE THE RIGHT TRIMMING MACHINES FOR YOU?
Here are a few suggestions to think about when you purchase a trimming machine.
Trim wet or trim dry
Your goal of daily capacity. With the weight capacity, you will be able to calculate how much the throughput of the machine you need.
Easy to clean and maintain. Field serviceable.
Find a company that backs their factory warranty and keeps spare parts in stock.
5. IS IT DIFFICULT TO MAINTAIN AND CLEAN TRIMMING MACHINES?
The level of difficulty in cleaning and maintaining a cannabis trimming machine can depend on the specific machine and its design. Some trimming machines (like our Zoom Pro) are designed to be quickly disassembled for regular maintenance and the food contact parts are easy to be accessed for cleaning.
How quickly you can get the replacement parts is also a key factor to maintain trimming machines efficiently. Always choose the trimming machine manufacturer who keep spare parts in stock all the time, like we do.
Not all the trimming machines are easy to be maintained and cleaned. Some machines are extremely hard to clean and to get spare parts when you needed them "yesterday".
It is also important to follow your manufacturer's recommended maintenance schedule and procedures.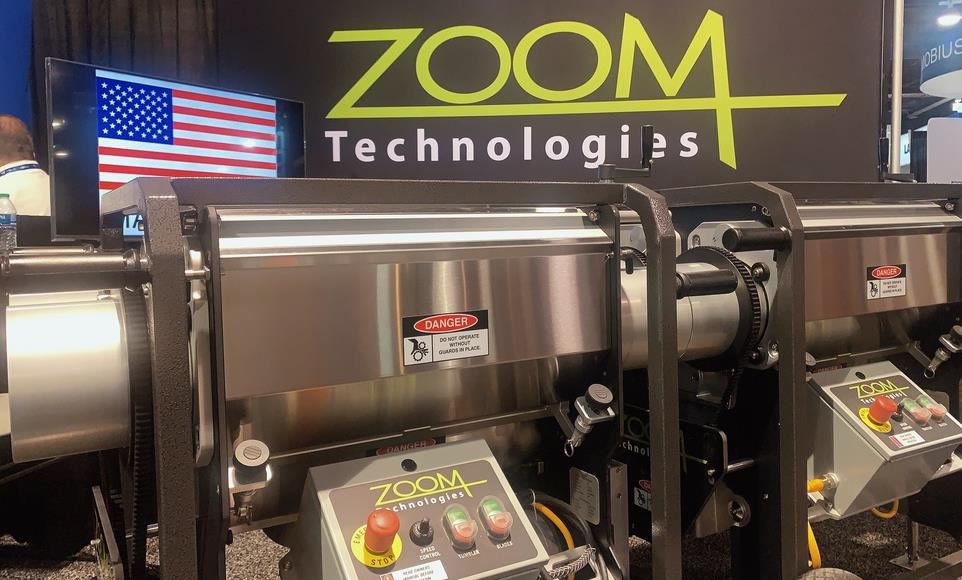 Zoom Pro double barrel trimming machine is designed for commercial cultivators to process thousands poundage of product.
The counter-rotate barrel system of the Zoom pro creates a natural turning force to tumble the material into the center cutting zone and result in the perfect trim. At the same time, the paralleled two-barrel design increases the feeding rate and throughput more than twice than the single barrel system on the market, which greatly improve the efficiency.
The adjustable tumbler speed, tilt control and vacuum rate give you more control over your product quality.
The easy to clean and maintain feature frees your cleaning team to focus on other essential jobs.
When you need to increase the capacity even more, you can connect 2 Zoom Pros in tandem to raise the speed and throughput.
If you have further questions about trimming, please email us at info@doublebarrelzoom.us. We're here to help.